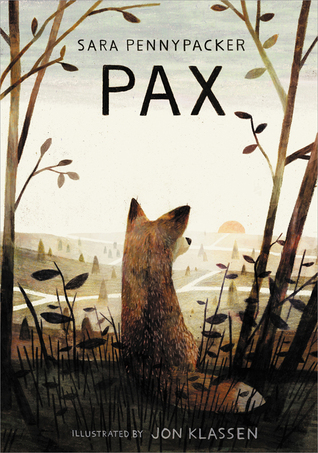 This book seemed an appropriate one to have read after the last week of grief and shock. Neither of those things are easy to face no matter who is or is not to blame. This site is where I share my thoughts on books, but today I couldn't help but share my empathy for those who are hurting at this time. It's my hope that with the Lord's help we, as Americans, can learn to listen to each other, and work together to help each other heal.
PAX
ABOUT THE BOOK
Pax was only a kit when his family was killed, and "his boy" Peter rescued him from abandonment and certain death. Now the war front approaches, and when Peter's father enlists, Peter has to move in with his grandpa. Far worse than being forced to leave home is the fact that Pax can't go. Peter listens to his stern father—as he usually does—and throws Pax's favorite toy soldier into the woods. When the fox runs to retrieve it, Peter and his dad get back in the car and leave him there—alone. But before Peter makes it through even one night under his grandfather's roof, regret and duty spur him to action; he packs for a trek to get his best friend back and sneaks into the night. This is the story of Peter, Pax, and their independent struggles to return to one another against all odds. Told from the alternating viewpoints of Peter and Pax.
REVIEW
The themes apparent in
PAX
make it a book that won't fit every reader. Themes of loss and grief, anger and personal responsibility, and war and survival make the book a compelling one, but not the easiest book to read. Because of those themes, I recommend that the book is one that deserves a lot of discussion between children and adults. Pax is the pet fox of a young boy named Peter. As the story opens Peter's father is forcing him to get rid of the fox before he goes to live with his grandfather while his father is in the army. Peter is heartbroken about this but doesn't want to incur his father's anger by continuing to refuse. Pax is utterly confused when his boy tosses his toy for him to retrieve and then isn't there when he comes back with it. Both Pax and Peter are forced to face difficult situations and choices. Pax must find a way to survive while waiting for his boy to return (he's sure Peter will come). And Peter determines that the right thing to do is to go find his fox. Neither character's journey is an easy one and the consequences of war must be faced by both of them.
Once Peter sets out to travel about three-hundred miles to find his fox, he discovers that it's going to be a lot harder than he expected, especially after he breaks his foot. A lonely isolated farmer named Vola reluctantly agrees to help Peter on his way, despite his foot, but only with conditions. As Vola helps Peter get stronger, she also teaches him about the costs of war (she's a disabled veteran) as well as wood carving and marionette story telling. Meanwhile, Pax is learning about thirst and hunger and the dangers of humans as the war creeps ever closer to where he is waiting. When he runs into a vixen and her little brother, Runt, who have had really bad experiences with humans, he starts to realize that the world he is in now is very different than the one he knew before. As both Peter and Pax (the story alternates between the two characters) learn and grow, they start to change making the ending rather bittersweet (in other words, not a happily ever after sort of story). As the story goes on the sort of relationship Peter has with his father becomes clear as do the events that lead to his mother's death that continue to haunt and grieve the boy.
Klassen's black and white illustrations match up well with the solemn tone of the story. They show just how alone Peter and Pax feel during major parts of the story, and how that gradually changes.
This book has a great deal of depth to it as it deals with issues that have become all to common in the world. While the book contains a great deal of sadness, there is also hope as Peter learns to face his pain and responsibility and Pax learns to survive despite the horrible conditions around him. Pennypacker does a great job keeping to story child appropriate, but several animals are killed/injured by land mines. A thoughtful book that I recommend with the caveat that you consider carefully whether it is appropriate for your child.