WILD & WONDERFUL WEDNESDAY: Hurricanes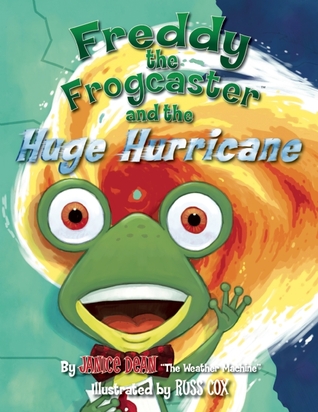 ABOUT THE BOOK
Freddy the Frogcaster is tracking the weather at Frog News Network when he realizes a huge hurricane is coming! Can the town of Lilypad prepare for the storm in time? Can Freddy report the weather on TV and make sure his family and friends are safe? Fox News Meteorologist Janice Dean "The Weather Machine" continues her beloved Freddy the Frogcaster series in this whirlwind adventure that will leave readers with lasting real-life advice on how to prepare for hurricane season.
REVIEW
Freddy the Frogcaster returns to help his town and the local tv weather team face an oncoming hurricane. But can he use his skills to share what he knows or will his fear of being in the spotlight get the better of him. Dean does a nice job integrating important information about hurricanes with a fun story about Freddy. I love the fact that Freddy has what may seem to some as an unusual hobby, the weather. It's great that the adults around Freddy also encourage him in his pursuits (building his own weather station, working with the local tv meteorologist and weather reporter, etc.) This book is not only a fun story but a great way to teach about weather in a fun way. The additional information presented at the end gives additional details and places interested readers can go to for more information.
EXTREME WEATHER:
Surviving Tornadoes, Sandstorms, Hailstorms, Blizzards, Hurricanes, and More!
by Thomas M. Kostigen
National Geographic, 2014
ISBN: 978-1-4263-1811-5
Source: purchased
All opinions expressed are solely my own.
ABOUT THE BOOK
Record heat. Record storms. Record drought, snow, rain, and ocean levels. What's going on? In a world of crazy weather exacerbated by climate change, knowing about tornadoes, hurricanes, droughts, derachos, blizzards, and storms is more important than ever. This book, based on cutting-edge science and first-hand accounts, helps kids learn about what's going on and what to do about it.
REVIEW
There are few places on earth where extreme weather of one sort or another doesn't impact the way people live and work. It's important to know how to react to these events and even be prepared for them. Kostigen reviews the major weather related disasters that can occur and offers tips on how to prepare and react to them. Hurricanes, tornadoes, sandstorms, hailstorms, and blizzards are some of the major types of disaster that are covered in this book. Each type of disaster is briefly described with large photographs illustrating the dangers of these weather events. Each section also includes a sidebar with tips for preparing, enduring, and recovering from these events. Additional sidebars included sections on nature's signals (how the natural world indicates that a large weather event is coming) and my favorite, gadgets which shares different devices that can help one respond better to severe weather. This is a great resource book for children who are interested in wild weather (and there are a lot) or children who like the security of being prepared.