I decided to participate in this read-along because this is a series that I've been wanting to read since the first book came out, I just haven't made the time. Unfortunately, I'm behind, since I still haven't read the first book. However, now that I've started it, I'm glad I decided to start reading this series. I am thoroughly enjoying it. Here's the information about each of the books in the series. Join us on
#FinishingRA
to share thoughts. There is also a giveaway of the whole series going on as well. See here for information.
Fourteen-year-old Sophronia is the bane of her mother's existence. Sophronia is more interested in dismantling clocks and climbing trees than proper etiquette at tea--and god forbid anyone see her atrocious curtsy. Mrs. Temminnick is desperate for her daughter to become a proper lady. She enrolls Sophronia in Mademoiselle Geraldine's Finishing Academy for Young Ladies of Quality.
But little do Sophronia or her mother know that this is a school where ingenious young girls learn to finish, all right--but it's a different kind of finishing. Mademoiselle Geraldine's certainly trains young ladies in the finer arts of dance, dress, and etiquette, but also in the other kinds of finishing: the fine arts of death, diversion, deceit, espionage, and the modern weaponries. Sophronia and her friends are going to have a rousing first year at school.
Here are my thoughts so far:
I love Sophronia! She is such a character. However I am also thoroughly grateful not to be her mother or teacher. Students like Sophronia make life so much more interesting. And one does have to admire her ingenuity and courage, if not her good sense. But it is clear that in some ways she will do well at this Finishing Academy that is really a spy school. But her lack of manners and her horrid curtsy make it clear that the teachers have their work cut out for them.
I have to admit I was a little surprised when I discovered the fantasy aspect of the story: the existence of vampires and werewolves. I expected the steampunk part of the story, but this aspect startled me a little. We'll see how it plays out. But the story is funny, both some of the character's comments as well as how in stride Sophronia takes the odd things that start happening to her. I very much look forward to seeing what happens next. Please stay tuned for further thoughts (if you wish). It should be an interesting ride.
Here are the upcoming books:
Sophronia's first year at Mademoisell Geraldine's Finishing Academy for Young Ladies of Quality has certainly been rousing so far! For one thing, finishing school is training her to be a spy (won't Mumsy be surprised?) Furthermore, Sophronia has become mixed up in an intrigue over a stolen device and had a cheese pie thrown at her in a most horrid display of poor manners..
Now, as she sneaks around the dirigible school, eavesdropping on the teachers' quarters and making clandestine climbs to the ship's boiler room, she learns that there may be more to a school trip to London than is apparent at first. A conspiracy is afoot--one with dire implications for both supernaturals and humans. Sophronia must rely on her training to discover who is behind the dangerous plot--and survive the London Season with a full dance card.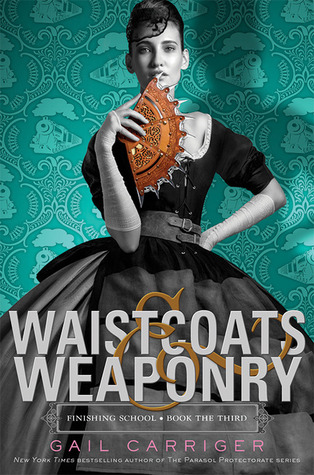 Class is back in session...
Sophronia continues her second year at finishing school in style--with a steel-bladed fan secreted in the folds of her ball gown, of course. Such a fashionable choice of weapon comes in handy when Sophronia, her best friend Dimity, sweet sootie Soap, and the charming Lord Felix Mersey stowaway on a train to return their classmate Sidheag to her werewolf pack in Scotland. No one suspected what--or who--they would find aboard that suspiciously empty train. Sophronia uncovers a plot that threatens to throw all of London into chaos and she must decide where her loyalties lie, once and for all.
Gather your poison, steel tipped quill, and the rest of your school supplies and join Mademoiselle Geraldine's proper young killing machines in the third rousing installment in the New York Times bestselling Finishing School Series by steampunk author, Gail Carriger.