BLOG TOUR w/ GIVEAWAY: Emmanuel's Dream by Laurie Ann Thompson
ABOUT THE BOOK
Emmanuel Ofosu Yeboah's inspiring true story—which was turned into a film, Emmanuel's Gift, narrated by Oprah Winfrey—is nothing short of remarkable.
Born in Ghana, West Africa, with one deformed leg, he was dismissed by most people—but not by his mother, who taught him to reach for his dreams. As a boy, Emmanuel hopped to school more than two miles each way, learned to play soccer, left home at age thirteen to provide for his family, and, eventually, became a cyclist. He rode an astonishing four hundred miles across Ghana in 2001, spreading his powerful message: disability is not inability. Today, Emmanuel continues to work on behalf of the disabled.
Thompson's lyrical prose and Qualls's bold collage illustrations offer a powerful celebration of triumphing over adversity.
Includes an author's note with more information about Emmanuel's charity.
A CCSS-aligned curriculum guide is available here.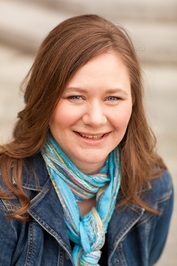 ABOUT THE AUTHOR
Laurie writes for children of all ages. She is dedicated to inspiring and empowering young readers through nonfiction and fiction that educates as well as entertains.
Laurie Ann Thompson is the author of Be a Changemaker: How to Start Something That Matters, a how-to guide for teens who want to change the world. An advocate for social justice, Laurie is dedicated to inspiring and empowering young readers. Emmanuel's Dream is her picture-book debut.
For more information see her website
here
.
INTERVIEW
What led you to Emmanuel's story?
When my kids were little, I used to sneak downstairs during naptime to watch The Oprah Winfrey Show. In 2005, Oprah had Emmanuel on her show to promote a documentary about his life that she had narrated, called Emmanuel's Gift. The story was so inspiring to me. Oprah said, "I think every parent should go take their children to see this movie, because it will change the way your children think about what they can do and can be." As a children's book author, I thought a book would be even better, so that very day I started working on what eventually became Emmanuel's Dream.
What do you enjoy most/dislike most about writing?
There are so many things I love about writing! I love being able to create something that simply wouldn't exist without me. I love doing research and learning about new things. And I love that challenge of puzzling out just the right structure and word choices. I also LOVE being able to work in my pajamas with my cuddly dog by my side!
The thing I dislike most is writing the first draft. I hate staring at a blank page. I have to put in a lot of time up front thinking and planning, so when I finally do begin writing I have a good idea of where I want to go and can get through it as quickly as possible. Then, I can relax and enjoy taking as long as I need to revise and get things just the way I want them.
What's something about you that most people don't know?
I grew up on a small farm in northern Wisconsin. I've slept in the doghouse with the puppies, ridden a pig, and plowed the driveway with a Bobcat skid-steer loader.
REVIEW
I love this sort of story. It reminds me that there is still good in the world, which I sometimes doubt after reading the newspaper each day. It reminds me that with persistence and courage amazing things can happen, even in the face of seemingly impossible circumstances. Not only is the story beautifully written, especially for the intended audience, but the illustrations match perfectly. Emmanuel's persistence in the face of great difficulties is admirable to say the least. I mean hopping 2 miles to and from school every day once his mother could no longer carry him. That's impressive. It's clear that Emmanuel's mother had a huge impact on her son in numerous ways. And Emmanuel's belief that "disability is not inability" is a powerful statement of belief. And that is where all great causes begin. Be sure to check out Emmanuel's website for photographs and more information about his work.
GIVEAWAY
One lucky winner will receive a copy of EMMANUEL'S DREAM: THE TRUE STORY OF EMMANUEL OFOSU YEBOAH by Laurie Ann Thompson, illustrated by Sean Qualls (U.S. addresses only).
a Rafflecopter giveaway
TOUR SCHEDULE
Follow all the stops on Laurie's blog tour!
| | | |
| --- | --- | --- |
| | | |
| | | |
| | | |
| Wed, Jan 14 | Unleashing Readers | |
| Thurs, Jan 15 | Sharpread | |
| Fri, Jan 16 | Cracking the Cover | |
| Sat, Jan 17 | Booking Mama | |
| Mon, Jan 19 (MLK Jr bday) | Once Upon a Story | |
| Tues, Jan 20 | Proseandkahn | |
| Wed, Jan 21 | | |
| Thurs, Jan 22 | | |
| Fri, Jan 23 | The Fourth Musketeer AND Kirby's Lane | |
| Mon, Jan 26 | NC Teacher Stuff | |
| Tues, Jan 27 | Teach Mentor Texts | |