FANTASTIC FRIDAY: The Screaming Staircase by Jonathan Stroud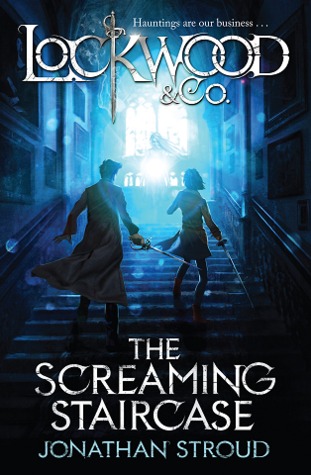 ABOUT THE BOOK
When the dead come back to haunt the living, Lockwood & Co. step in . . .
For more than fifty years, the country has been affected by a horrifying epidemic of ghosts. A number of Psychic Investigations Agencies have sprung up to destroy the dangerous apparitions.
Lucy Carlyle, a talented young agent, arrives in London hoping for a notable career. Instead she finds herself joining the smallest, most ramshackle agency in the city, run by the charismatic Anthony Lockwood. When one of their cases goes horribly wrong, Lockwood & Co. have one last chance of redemption. Unfortunately this involves spending the night in one of the most haunted houses in England, and trying to escape alive.
Set in a city stalked by spectres, The Screaming Staircase is the first in a chilling new series full of suspense, humour and truly terrifying ghosts. Your nights will never be the same again . . .
REVIEW
I am not generally speaking a huge fan of scary, gruesome books, which this book very much is, but I have to say that I loved it. The characters, plot, setting, everything came together in just the right way to create a thoroughly enjoyable story. And I just have to say this, Lockwood, the head of the agency, reminded me so much of Sherlock Holmes, his dismissal of emotion, his moodiness, his enthusiasm when an intriguing case presents itself, his tendency to not share everything with his companions. Since I am a huge Sherlock Holmes fan I enjoyed that characterization. And Lucy, who tells the story, is a fascinating person with some unusual talents that its clear have not fully developed. I look forward to reading further stories to discover how she continues to develop. And George, I had to appreciate his thoroughness in researching each of the places they would be going and what possible difficulties they might be facing.
The plot had more than enough twists and turns some quite unexpected to satisfy readers, including myself. Stroud does a great job of creating a spooky, creepy atmosphere and his setting descriptions made me want to see the places he described (only in daylight of course). The only thing that baffled me a bit was the time period. The atmosphere made me think it was taking place in the past. It took me a while to figure out that it was taking place in the modern age (modern library, computers, cars, etc.) I think maybe it was how the characters dressed with rapiers, and long mysterious coats and the creepy atmosphere. But regardless, I thoroughly enjoyed how the different elements came together to create a great story. I would recommend this for students who can handle the creepy, gruesome elements. To say more would be to spoil the story but this has horror elements that not all young readers can handle.
Overall, a book I really enjoyed and I am anxious to read the next book in the series.